HYUNDAI DEALERSHIP SPECIAL

ACCELERATE AMERICA

ACCELERATE AMERICA WITH NAPLETON HYUNDAI
The Napleton family is a proud partner with Hyundai Motor America, maker of award-winning automobiles, sport utility vehicles (SUV) and minivans. Together, the Ed Napleton Auto Group and Hyundai are doing our part to help Accelerate America!
Thanks to the Accelerate America program, now is the perfect time to find out about special financing options available at all Napleton Hyundai dealerships. Find the Napleton Hyundai Store nearest you by going to EdNapleton.com.
Hyundai began producing automobiles in 1967. Fifty-three years later, their world-class lineup of vehicles includes automobiles, SUVs and minivans, as well as alternatively-powered hybrid and electric vehicles. And the best part is these award-winning Hyundai vehicles are ready for immediate delivery. Whether your needs are for stylish, reliable transportation like the Sonata or the seven-passenger capacity of the new Palisade SUV,  Hyundai and Napleton Auto Group are ready to Accelerate America!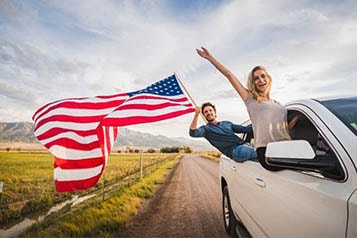 Whether it's one of the latest new models from Hyundai or a clean pre-owned vehicle, we can arrange an online purchase experience complete with vehicle walkarounds via Zoom, Facetime or Skype on your computer or smartphone. At Napleton Auto Group's multiple Hyundai dealerships, we are ready for all your sales and service needs. And remember, we service all makes and models! We can complete most paperwork remotely and deliver your new vehicle to the location of your choice.
Life, as we know it, has become a tiny bit more complicated and will likely present additional challenges going forward. That's even true with how we buy and sell automobiles. Through all of this, the Napleton Auto Group is prepared for the road ahead. By following all CDC guidelines, we will do everything possible to ensure the care and safety of our customers and associates. Unfortunately, handshakes may be a thing of the past, but that's okay. We will use face masks, practice social distancing and perform frequent hand and dealership cleanings. Our Napleton Hyundai dealerships are constantly re-examining our protocols to provide you with the safest and easiest car buying experience possible.
It's here at all Napleton Hyundai outlets and throughout the entire Napleton family of dealerships. Join Hyundai and Napleton Auto Group as we work to Accelerate America!