FIAT DEALERSHIP SPECIAL

ACCELERATE AMERICA

ACCELERATE AMERICA WITH NAPLETON FIAT
The Napleton family is proud to offer FIAT automobiles and Sport Utility Vehicles (SUV). Together, the Ed Napleton Auto Group and FIAT, a division of Fiat Chrysler Automobiles (FCA), are working hard to Accelerate America!
Now is also the perfect time to find out about the latest in special financing options at Napleton's FIAT of Indianapolis dealership.
FIAT  has a long, storied history that traces back to 1899. It has had many iconic vehicles, including the 124 Spider and the world-famous Cinquecento (FIAT 500). Many of these same names exist today but in new, sleeker and more technological packages. And best of all, they are ready for delivery. Whether you desire a car that will take up hardly any garage space or a topless two-seater like the FIAT 124 Spider,  just ask the specialists at FIAT of Indianapolis to personalize the exact vehicle for you. Together, we are ready to Accelerate America!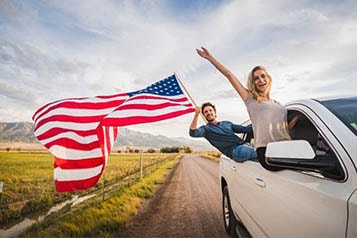 At Napleton Auto Group's multiple dealerships, we are ready for all your service and sales needs. Whether you are looking for a new FIAT 500, 124 SPIDER, 500L station wagon, 500X Crossover or even the futuristic 500E electric vehicle, we are ready to serve you. Or perhaps a Napleton quality preowned vehicle fits your needs. Either way, we can arrange an online purchase experience complete with vehicle walkarounds via Facetime, Zoom or Skype on your computer or smartphone. We can complete most paperwork remotely and deliver your new vehicle to a location of your choosing, whether at home or work.
The global pandemic will likely change the way you buy an automobile, but rest assured, the Napleton Auto Group will be ready for it. We make every effort to follow all CDC recommendations and guidelines and will do everything possible to ensure the care and safety of our customers. As much as we love seeing you, we will refrain from offering a handshake. We will use face masks, practice social distancing and frequent handwashing as well as dealership cleanings. We are constantly re-examining our protocols to present you with the safest and easiest car buying experience possible.
It's all here at Napleton FIAT of Indianapolis and throughout the entire Napleton family of dealerships. Along with you, the Napleton Auto Group is ready to Accelerate America!